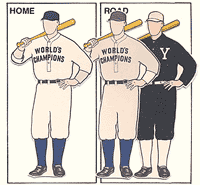 Notes on the Ring Ceremony

1) No crazy championship uniforms? I know that
the whole point of this
was that it had been 86 fucking years, but, hey, you never know when this ring ceremony will be your last.
EVER.
And imagine how ballsy it would be to wear something like the 1906 N.Y. Giants wore (above) for a day. Now try that shit for a year.
Damn.
2) As my astute reporter
the 45 King
noted,
you watching this thing? representing the 2004 world series champs:
curt leskanic, david mccarty, and daubach.
I'll give it to Leskanic because he pitched some shutout ball for us in the neverending game 5, but, yeah, representatives of a team should generally have played for said team that year.
3) The flags of the world ringed around the warning track in left combined with a saccharine "Theme to New England" by the Boston Pops (more like "Rejected Olympic Theme
#4,080
) reminded me of something I learned from living abroad half my life.
Q: How much does Sweden, Mexico, Germany, and South Africa really give a shit that the "baseball" franchise from distant Boston in the United States won a misnomered thing called the World Series?
A: NOT. ONE. FUCKING. BIT.
I smell Lucchino and Charles Steinberg's self-aggrandizing ways here. But hey, it's only for a day. Ego trip away. Let's just try winning a game today too.