This brilliant piece of East Coast-ish mid-90s sound was a one-off group, 1st Down, consisting of Phat Kat and the brilliant and much missed Jay Dee/J Dilla. It's also a good way to look at the leagues as we head into the second "half" of the season, because over 162 games, baseball teams don't so much win their divisions/wild card as they prove themselves playoff worthy. Those who don't? They're pretenders to the throne. They're living on Front Street.
AL East
1.

Red Sox
: Living on Possible Dynasty Street.
There's a lot to be proven here--the bullpen, David Ortiz's health, and Clay Bucholz are all question marks, and it remains to be seen if Daisuke can consistently reach the 7th inning or if Josh Beckett can recover his dominant form--but flawed though they (and every other team in the majors) are, the Red Sox are in pole position. The only surprise to many people is the team chasing them.
2. Rays
: Living on Beautiful Youth Street.
Most people laughed when Baseball Prospectus' PECOTA system predicted 88 wins for the exorcised, no longer deviled Rays, and they had history to back them: this team has won 70 games ONCE, and it was exactly 70 wins at that. But Chuck
"The only thing that keeps this organization from being recognized as one of the finest in baseball is wins and losses at the major-league level." LaMar isn't in control anymore, and at some point, if you keep getting top draft picks and use them properly, you can acquire an assload of young talent.

The losing streak that handed the Red Sox their slim division lead may or may not be indicative of problems to come, but I wouldn't go expecting a return to the mean here. And regardless of how this year ends, the Rays will be around for years to come...



3. Yankees

: Living on the corner of Front Street and Failed Youth Street.

Cano's sucked. The corpse of Hideki Matsui will probably be decomposing on the sidelines for the rest of this season, and Johnny Damon isn't coming back soon either. Hughes and Kennedy aren't exactly Spahn and Sain just yet, if they're ever going to be. Making the playoffs last year, several of my Yankee fan friends have said, may have been the worst possible thing that could have happened last season, and has left the Yankees trying to rebuild and compete at the same time.

But their youth is too young and their aged should be applying for AARP membership considering their frailty. (Mussina excepted...for now.) No wonder the Yankee fandom got so up in arms over Papelbon's All-Star comments, comments only stupid for their honesty. They had to get excited about something; unfortunately, much like the excitement over Hawkins wearing Roberto Clemente's number ("Hey! Paully wore that!"), it really made Yankee fans look like a douchebaggish mass. If our fanbase wasn't beating Yankee fans nearly to death, I would go on at further length here, but, well, they are. Sigh.



4. Blue Jays

: Living on GM Vacancy Street.

I'll miss you, J.P. Riccardi. Maybe Billy Beane's hiring.



5. Orioles

: Living on Meh Street.

Better than expected (and looking like geniuses for pitching Erik Bedard), but this is still a fairly uninspired mass of talent regardless of the surprising results. Daniel Cabrera is never going to be what he could be, either. On the bright side, trading Audrey Huff and George Sherrill could get a disturbingly big windfall. Baseball GMs can be that dumb and that desperate.




AL Central

1. White Sox: Living in an unknown address.

What the fuck? Is the team I saw play the most uninspired baseball I've ever seen (in 2007's late-season four-game drubbing by the Red Sox) really in first place the year after? And...how?

Well, Carlos Quentin is laughing right now at the D'Backs as he has his monster season and Arizona struggles for every run. John Danks for Brandon McCarthy, which I thought was idiocy at the time, was actually a brilliant trade. (Although I sure wish Frank Thomas could come back to the ChiSox, just so I could call them Frank-n-Danks.) Gavin Floyd is pitching over his head for now, Jose Contreras has shown signs of life, and statistically, this is the most balanced team in the AL.

I still don't fully believe in this team, not this year. But I don't see anyone else winning a very weird AL Central either.



2. Minnesota:

Living on North Front Street.

North Front Street is a fine neighborhood. Good schools. Beautiful houses. Just no real chance at genuine contention in spite of appearances to the contrary. Oh, I hate seeing the Sox play them, especially since rookie twirlier Nick Blackburn has our number. But Brandon Harris and Mike Lamb are the left side of their infield, Carlos Gomez is getting his training on the job and it often shows, and Livan Hernandez is on pace for about 320 hits, which would be dead ball-era-esque.

And the Delmon Young- Matt Garza trade that looked so even wasn't. At all.

Oh, and Brett Favre wants to be the Vikings QB. Sorry, Minnesota. At least The Hold Steady have a new record out.



3. Detroit:

Living in a halfway home just off of Front Street trying to pick up the pieces of their shattered lives after a Josh Hamilton-eque crack binge.

This didn't work out as you expected, eh? I knew this team was flawed. (Ahem, and I also KNEW that the Indians were taking it this year.) Galarraga is still their only pitcher better than league average, Miguel Cabrera is a first baseman now (and not that good at that, either), Sheffield's body is giving way after many mainly injury-free seasons whipping that bat violently, just in time to make the Tigers' trade for him look like a clearly bad idea, and Edgar Renteria is apparently back to Wreck-A-Ria status. Is he old or does he just hate the AL that much?

Who cares. The Tigers could still be this year's late-season chargers, but I think people are overestimating their chances to do so. You know how hard a huge run is to pull off? Just look at the Rockies now.



4. Royals:

Living on a duplex on Front Street.

Yawn. No comment.



5. Injuns:

Kicked off of Front Street and living on a reservation, wrapping their children in small pox blankets.

Cliff Lee is pitching out of his mind, and the Indians are still in last place because their team totally forgot how to hit, then lost the punchless Victor Martinez to injury. (Which at least puts a more positive light on his 0 HR performance in the months before.) Fausto Carmona too, for awhile. Asdural Cabrera and Travis Hafner have been out for the year since Opening Day; unfortunately, they've been in the lineup all that time, being out and making outs.

Matt LaPorta sounds like a hell of a slugger (although the Brewers still got a deal on CC "No Periods" Sabathia), and Mark Shapiro is the sort of GM that can turn a last place season into a talent-acquiring adventure. Cleveland got hit in the head with the losing stick this year, but they won't be in the bottom half of the division long.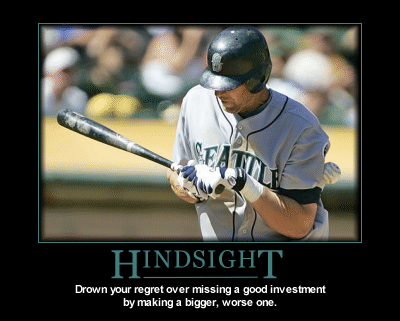 AL West

1. Angels: Living in the same old McMansion on Very Good Street.

Yep, it's an Angels team: great pitching, somewhat iffy offense, more so than ever in both cases. Will need 11 straight shutouts in the playoffs to actually win the World Series, but just might get it. The Official A's fan of Vaughn's, Professor L-P, insists that Joe Saunders sucks and his record is an abberation, and both Ervin Santana (whose real name is Johan! he changed it due to you know who!) and the Younger Weaver Brother can be gotten to on occassion. As for John Lackey, hopefully he'll pitch in Fenway again in the playoffs: you know what results from that.

So, yes, this is a team that can win it all. Assessing them further than that, I can't do from what little I've seen. I'm looking forward to the Sox-Angels series after the break, I'll say that much.



2. Athletics

: Has a house on Front Street, but usually just sleeps on the beach.

Lineup: Horrible. Pitching rotation: The Duke is excellent, the rest are adequate. Bullpen: Still squeezing the last life from the 2004 Red Sox 'pen. (Embree and Foulke together makes me wish they pulled Leskanic out of retirement. Memmmmories...) This has been a good rebuilding season. Let's not call it more than that, now.



3. Rangers

: Lives in a van. But it's a slick van. Hydrolics and shit.

Milton Bradley and Josh Hamilton have both been amazing and excellent pickups. Ian Kinsler is playing out of his mind. The Rangers actually have more wins than the Rays and Red Sox since June 1st. But these being the Texas Rangers, they still can't pitch, so I still can't say I care.



4. Mariners:

Homeless.

The Mariners don't know lucky shit from shinola. Success last year was bad for the Yankees this year, but an absolute catastrophe for the M's, who traded their future for a pissy French-Canadian they may manage to trade this coming deadline. Already. One player they couldn't trade: the departed Richie Sexson. Another they won't be able to trade: recent signing and no longer league-average pitcher Carlos Silva. Mercy. Pass the gauze.



NL review tomorrow.