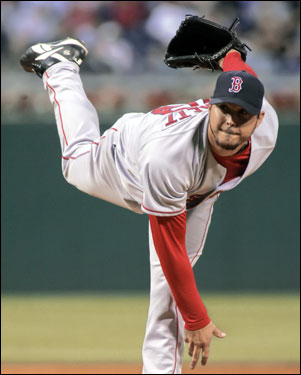 This is getting amazing. Thanks to Beckett's 7th win in 7th starts, the Red Sox's record now stands at 21 Becketts and 10
Anthony Young
s, 11 Becketts over .500, 6 Becketts ahead of the Yankees, who are admittedly showing a pulse: 7-3 in their last 10 games, same as the Sox. Dustin Pedroia is also showing a pulse, esp. with his three-run HR, and slumping Julio Lugo had two hits; if J.D. Drew comes out of his slump (remember when he was carrying this team?) maybe the offense will really be clicking. And yes, I'm saying that after a 9-run effort. It was Victor Zambrano, yo.
Oh, hey,
here's an off-topic laugh.
Quick story. It's game three of a Patriots' Day series against the Yankees at Fenway, April 2001, and the Yankees, after losing the first two, are beating the Sox into submission. One plus to this is that me and my Yankee fan friend Nick can move into the vacant dugout seats, then brand new. The combination of Natty Light, the frustration of the first two games, and too much direct sunlight, inspires my friend to pull a Fenway faux pas: shouting "Nomar, you suck!" as Mr. Garciaparra came into the Red Sox dugout. We heard him mutter "Fucking Yankee fans..." as he tailed his way in. No surprise. No one expects Nomar to ignite a screaming match.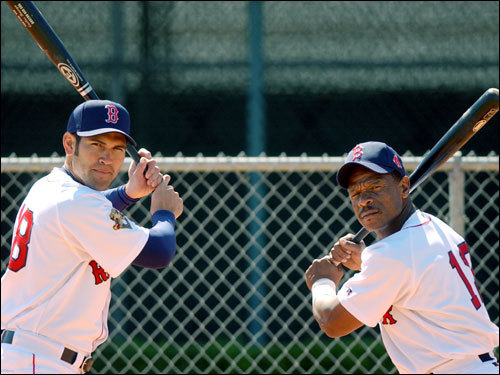 But then...out comes Sox supersub Rickey Henderson! To jaw with my friend for like four minutes. (Well, it was a one-sided jawing. To Nick's credit, I dunno how I would defend his actions to a Hall Of Famer.) The disappointment? Rickey didn't use the third person on himself at all.
Sigh. Josh doesn't like it when Rickey disappoints Josh. On the plus side, maybe this means Rickey will sign with the Newark Eagles again and I'll have an excuse to see some independent league baseball again, like when I saw Newark v. Bridgeport in the very very nice Bridgeport, CT stadium. Bonus fun: Bridgeport DH Jose Offerman, the free agent who essentially replaced my beloved Mo in Boston, went 0-4 with 3 Ks. Somehow Minnesota brought him back to the majors anyway. If Offerman can be retread once, Rickey deserves a ninetieth opportunity. And may I suggest no matter who signs him, he wear this cap?