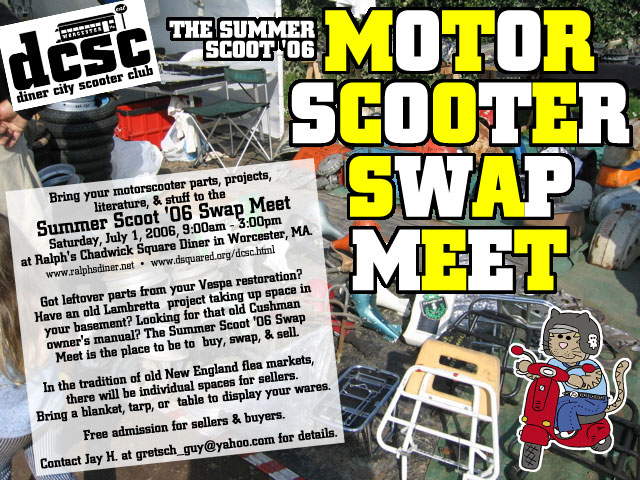 Are you ready to be disappointed? It's trading deadline time!
As usual, most of the awesome, drool-inducing talk just amounts to one big
ice cream castle in the summer time
, which particularly frustrates with the Red Sox, who end up attached to every trade rumor every year because, well, they're the Red Sox, so any big player on the block is assumed to be a possibility. "If anyone can do it, the Red Sox can do it." Or whatever.
The difference: this year, the Red Sox are
really trying to land big fish.
This truly
will be our year
if the front office has anything to do with it, because they're going for two free agents to be.
1) Eric "Racer X" Gagne.
Pros:
--Used to be awesome.
--Still pretty awesome.
--No Red Sox starter will ever have to pitch the 7th. (Okajima + Gagne + Papelbon= game over.)
--Sandwich pick to come when we don't resign him in the offseason.
--Barring injury, acquisition of Gagne will effectively end the home field advantage race. It'd be ours.
Cons:
--About as durable as one of those Aiwa stereos with the 3CD changer. Did you used to have one? Did it break before it was two years old? No? Are you lying to me?
--Not gonna be resigned by Boston.
--Gonna cost us something like Manny Delcarmen. (Better not cost us Justin Masterson, who will be a starter in the bigs by 2009.) Make the trade if it doesn't cost any blue chips. Give 'em Craig Hansen.
2) Jermaine Dye
Pros:
--Not Wily Mo Pena.
--Can play corner OF, 1B, allowing rotation of players to rest David Ortiz's knee.
--Not Wily Mo Pena.
--Has started hitting for average again. Already has 19 HRs.
--Not Wily Mo Pena.
--Trade could involve Wily Mo Pena, thus making for no mo' Wily Mo ever again.
--Sandwich pick.
Cons:
--Could cost a whole bunch, for a 4th OF demanding to be played 5 games a week.
--Durable as an XBox 360.
(Mine broke yesterday!)
--Not much else. Make the trade.