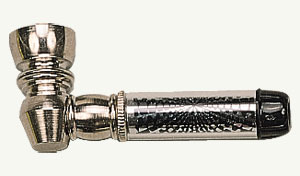 The one-hitter. A pipe for those who don't want to get too high at one time. Portable, durable, and
spartan
(but not
SPARTAN!
), I used to own one. I also have clumsy hands and can't roll them wacky cigarettes. For as long as I don't learn, I won't end up being
a walking stereotype.
Curt Schilling's one-hitter. Was he
one shake-off
from finally finishing a no-hitter? Maybe. Sure beats being
one bunt single
away though.
Great game by the 40-year-old, and since it gets the Sox off a slide (a 4-game losing streak cutting the AL East lead to 10 games being cause for worry in Boston...worry is as much a tradition as wasting tea in Beantown, after all. (
Wasting this tea
, that is, not
that tea
...Boston prefers its drink anyway.)
And now, interleague plays sticks it in us. There's no right choices as to who to play and who to rest on the corners, a big three in two NL positions: 1B-3B (Youk), 3B (Lowell), or the big big DH-1B (
Papi!
[Aka The Big Oblivion...man,
is this funny
), the Sox are the sort of loaded AL lineup that especially lose force in interleague play at NL stadiums. One can't envy the Mariners for having Jose Vidro at DH, but Mike Hargrove's job sure is easier. And the D'Backs are a good team with a curious mix of veteran pitching and a youthful lineup with pop, including the younger (and currently, far far superior) Drew brother.
Too bad Schilling won't be pitching: as a Christian,
he must hate snakes.
Look out for
Schilling's own take
on the near no-no...it ain't up, but it'll be worthwhile, I imagine.
And now, in the spirit of a summer weekend, and not a damn thing else, the worst rap song ever? The best? Whatever. I think
it's the cat's nuts (Il massimo)
, Ike. Ring a dang a dong.